Want to learn home staging?
Begin a new career?
Stage your own home for sale?
Add staging services to a real estate business?
I can teach you everything you need to get started!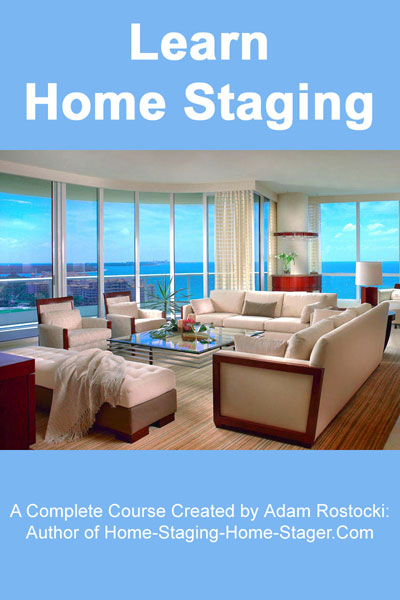 Learn Home Staging teaches you everything there is to know about staging properties. In this easy-to-follow book, you will learn all about the art and science of marketing real estate using the proven power of home staging. My ebook provides complete coverage of basic and advanced staging techniques and imparts the knowledge you will need to pursue your aspirations in the staging sector. As an expert New York City property staging consultant, I will teach you home staging using simple advice and effective strategies. Consider this book the best investment you will ever make in your own home staging or real estate career.
– Adam Rostocki, author, home stager and noted real estate consultant
---
Learn Home Staging Ebook
Begin a new career in home staging. My ebook provides step-by-step advice for aspiring home stagers, new home stagers and even seasoned professionals with years of working experience. In fact, many successful stagers have written to me with thanks for opening their eyes to some new tricks and trade secrets.
Agents and brokers: Add staging services to your existing real estate business. I will teach you exactly how to integrate home staging to complement your rental or sales listings. Make more money and get a leg up on your competition by offering services that other real estate professionals don't. Distinguish yourself and become a true marketing expert.
Sell your home using the science of staging. I want you to sell your home for the price you deserve to receive. In this real estate staging ebook, I will teach you just how fun and easy it is to stage your own home, using my expert tips and practical techniques. I will walk you through the entire staging process, interior and exterior, and describe what needs to be done, room by room. Save money and stage your own home in order to maximize profitability from the sale.
If you enjoy this website, you will adore the book! The tremendous value speaks for itself. Your purchase of the ebook goes 100% towards keeping this free site online and available for your continuing research needs! Thanks!
---
My Home Staging Ebook Features Sections Covering:
• Color palate and interior style selection
• Look, feel and flow optimization
• Clutter control and organization solutions
• Decor depersonalization techniques
• Objective aesthetic enhancement
• Curb appeal that sells
and much, much more.
---
This home staging ebook pays for itself many times over.
The knowledge gained will last a lifetime.
The book can save you money and make you money.
Best of all, it is super affordable.
$19.99 Now Only $9.99
Limited Time Offer!
Instant download worldwide.
Secure ordering guaranteed.


Home Staging EBook Testimonials
Learn Home Staging Ebook is a great resource for so many reasons. I bought it to help me break into the staging business and I succeeded. I used the information to transition to a new career and now love my job, since I am the boss! However, I also gave the book to some family members who used the design advice to help them improve their décor and they are not even thinking about selling. All in all, this book delivers solid expert information about interior design, the staging industry and especially DIY projects that will enhance any space. A tremendous value for sure! – Annette Jackson, Birmingham, Alabama
I love design and thought about buying the book for some time while reading Adam's website. Eventually, I could not resist and bought it. I am so pleased. He includes deeper coverage of all his already excellent topics on the website and so much more. If you are looking for step by step plans for staging your home or entering into the staging services marketplace, this is the book for you. Thanks for the great read. I enjoyed it several times and still reference it often. – Cyndy Malone, Jersey City, New Jersey
Want to be a stager? Of course you do. Buy this book. Come on, its $10 and it taught me more than my $4000 staging school. I wish I bought it first before spending ridiculous money on training from my school. I am a rare guy in this business and I think it helps me to do well. I found my niche and will never go back to a 9 to 5 job ever again. Thanks. – Alan Caldwell, San Diego, California
All I can say is buy this charming book. You will thank me and I thank Adam for writing it. Also, I have to say, this is my favorite website! – Tara McGuinness, New York, NY
Adam staged my house and his magic worked! I sold quickly and for more money than my realtor thought. He is a great artist. He gave me his book and I have used it to help several friends to DIY their houses for sale and for pure enjoyment. The book gives you access to one of the best stagers anywhere for a tiny investment. I call that a real bargain! Awesome! Thanks, Adam! – Rena Solomon, Bay Shore, NY
I was looking for a new path in life and was so tired of working for someone. I read about home staging on a career website and then found this website. I read it all and thought this was the perfect job for me. I hate to spend money, but after reading all the articles here, I thought the product would be worthwhile, since the author seemed knowledgeable and sincere. I had moderate expectations and was blown away. After reading the book, I was sure that I could do this job. I did not want to spend more money on schooling, so I offered to help some friends stage their homes for the fun of it and then actually did one that was being offered for sale. I used all the info in the book to get me on track. Believe it or not, a few prospective buyers loved the décor so much that they asked my friend who staged the home and they referred me to help stage these people's properties. I got 3 clients from just one designed home. I was officially in business without even really trying. Now, I take things much more seriously and have a legitimate business in development. I am so happy that I pushed ahead and learned all that I could, virtually for free. I love this book and have corresponded with Adam on several occasions to ask questions. He is always generous with his time and knowledge, and that is why I am pleased to offer my testimonial that his book is great and offers tremendous value. Just buy it and you will see for yourself. – Toni Romani, Miami, Florida
Learn Home Staging is a great read and a useful tool. I have been a professional stager for a decade with a successful business and constant referrals. I have learned some new tricks from the book and have recommended it to my peers and all of my real estate contacts. Results speak loudly and with the information contained in this book, anyone can stage a property beautifully. Whether you are aspiring or expert, I think you will love this book like I do. I even sent some as holiday business gifts this year to rave reviews! – Eva Talisman, Los Angeles, California