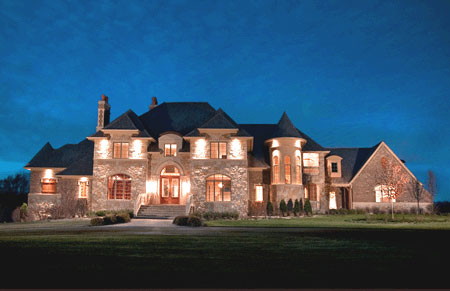 Home staging exterior lighting is one of the least implemented types of illumination  enhancements, but is also very easy, effective and impactful for creating a perfect exterior staging design. Lighting is just as important on the outside of your home, as it is on the inside. Exterior lighting can truly highlight the best features of your property in the evening and can add a hint of intrigue and increased functionality to outdoor living spaces all year round.
This guide suggests how to get the most value when staging or upgrading the outdoor lighting on your property.

Home Staging Outdoor Lighting Ideas
Lighting the outside of the home is not difficult or expensive. Here are some easy fixes for dark and drab outdoor areas:
Spotlights can be placed in flower beds to face the front of the home. This will add distinction to the curb appeal at night.
Make sure the porch lights work and are bright enough to provide a pleasant aesthetic in the evening or during inclement weather.
Solar-powered LED lighting can be installed on walkways in the front yard or backyard for virtually no significant cost.
Mood lighting using colored bulbs can be used in entertaining spaces in the back yard, such as around a pool, on a patio or on a deck.
Motion-sensor lighting is always an asset, both for security and energy efficiency. Consider installing motion detectors on all the traffic paths on your property for easy hands-free illumination when needed.
Home Staging Exterior Lighting Assistance
Creating the right atmosphere outside your home, using lighting, will please potential buyers with increased security, usefulness and aesthetics. Outdoor lighting extends the time in which any exterior space can be enjoyed and a comprehensive lighting scheme will allow 24 hour functional use of the entire property, at a low cost.
Many exterior lighting products do not require professional installation, making them budget-friendly additions to a DIY home staging plan. For lighting fixtures which do require a professional electrician, do not scrimp and save. Always use a licensed electrical contractor to ensure safety and hazard-free operation of the fixture.
To learn more about how exterior lighting can make your home more desirable to prospective buyers, consult with a qualified home stager today.